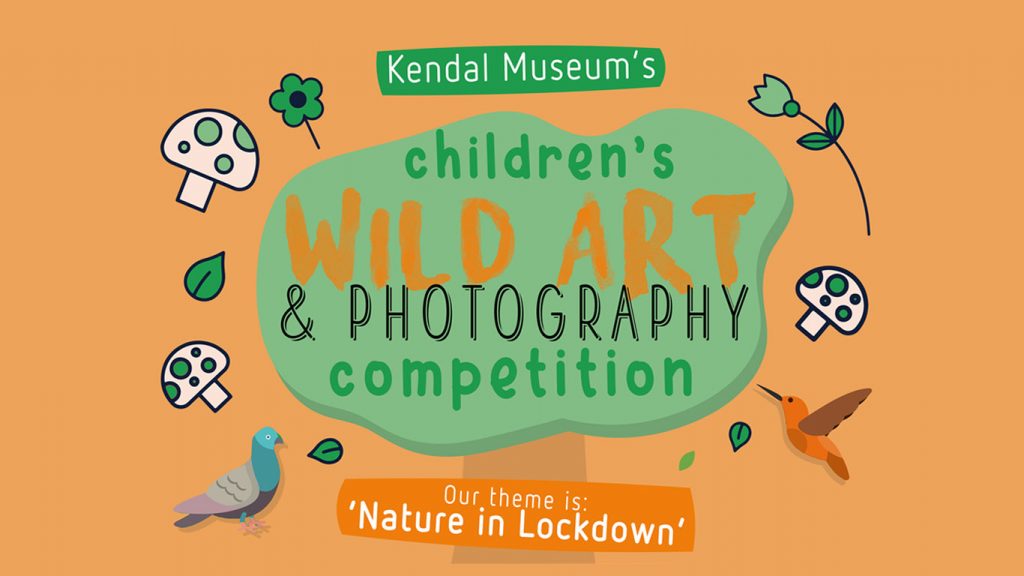 We are having a Wild Art and Photography Competition!
Our theme is the Natural World in Lockdown. Anyone between the ages of 4 and 11 can take part, free of charge!
Think about the animals and plants you can see from your window! Have you seen any trees, birds, creepy-crawlies or flowers on your local walks with your parents? We want to see them! Create a piece of artwork or take a photograph of a wild thing!
What can I win?
There are amazing prizes to be won in two age categories, 4-7 and 8-11, with separate prizes for art entries and photography entries. The winners in both age groups for photography and art will receive prizes for first place which include:
A selection of arts and craft materials, kindly donated by our sponsor, Youdells Art Shop in Kendal
A super kids hamper kindly donated by Morrisons in Kendal
A Kendal Museum goody bag
Free entry to the museum for the named winners for a year
Have your photograph or artwork displayed in a special exhibition at the museum
All entries will be displayed at the museum even if you do not win! You can come and vote for your favourite when you visit us. The winner of the special people's vote will receive a separate additional prize!
The winners of the competition will be chosen by a panel of special guest judges, including representatives from Youdells Art Shop and Kendal College!
How do I enter?
By Email
Send your picture by e-mail to info@kendalmuseum.org.uk with the subject 'Competition', don't forget to include your name, age and which school you attend.
In Person
You can also deliver your entry by hand to the museum when we are open from Thursday 20th May 2021. We are usually open Thursday to Saturday from 9.30am to 4.30pm. Don't forget to include your name, age, e-mail address and school with your artwork or photograph.
Please make sure you have read our Terms and Conditions before entering. By submitting your work you agree to the terms and conditions.
The closing date for entries is Saturday 19th June 2021.