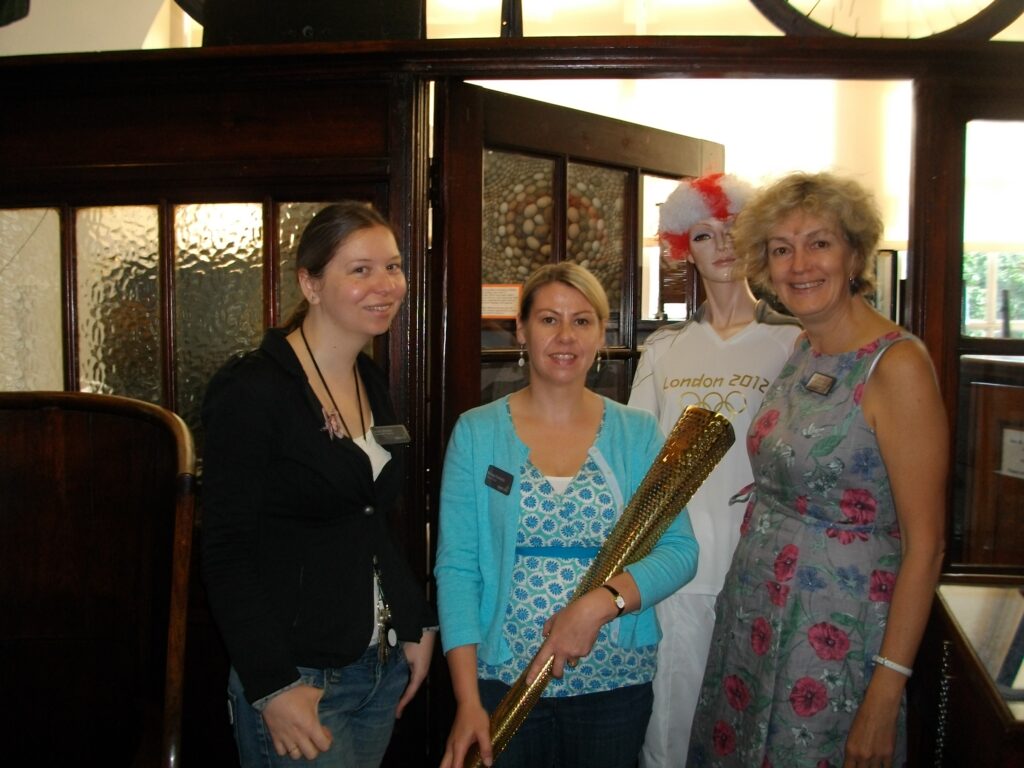 This week our Curator, Morag Clement, talks about "London Olympic Torch and Runner's Outfit".
**Please note that we were privileged to have the torch on display for a few months back in 2012**
This torch carried the Olympic Flame on day 35 through Lancaster on 22 June 2012. It was kindly loaned to the Museum by the torch bearer Steven Walker from Kendal.
While serving in the Territorial Army he was stationed in Iraq, and was nominated as a torchbearer for his charity work and fund raising on behalf of 'Help for Heroes'.
Mr Walker kindly agreed to let the public have photographs taken holding the torch in return for a donation of at least £2.00. The money raised was equally divided between Mr Walker's charity, Help for Heroes, and Kendal Museum projects.
About the Olympic Torch
The Olympic Flame commemorates the theft of fire from the Greek god Zeus by Prometheus. The torch relay which transports the flame from Greece to the host country has no ancient precedent. It was introduced by Carl Diem at the 1936 Olympics in Berlin.
In the run-up to London 2012, the Olympic Torch is bringing the Olympic Flame on an 8,000 mile relay across Britain and Ireland. It is the accumulation of 70 days of welcoming, festivities, events and jubilations with 8,000 runners from every walk of life. The relay began on May 19 at Land's End and finishes on 27 July at the opening of the Olympic Ceremony.
The three sides of the torch represent the three times the Olympics have been held in London first in 1908, then 1948 and 2012.
Morag Clement MA(Hons), MPhil, FSAScot
Archaeology Curator
Kendal Museum
Come and explore the Kendal & Westmorland gallery at Kendal Museum and learn more about our exciting local collections.
You can book your tickets here.