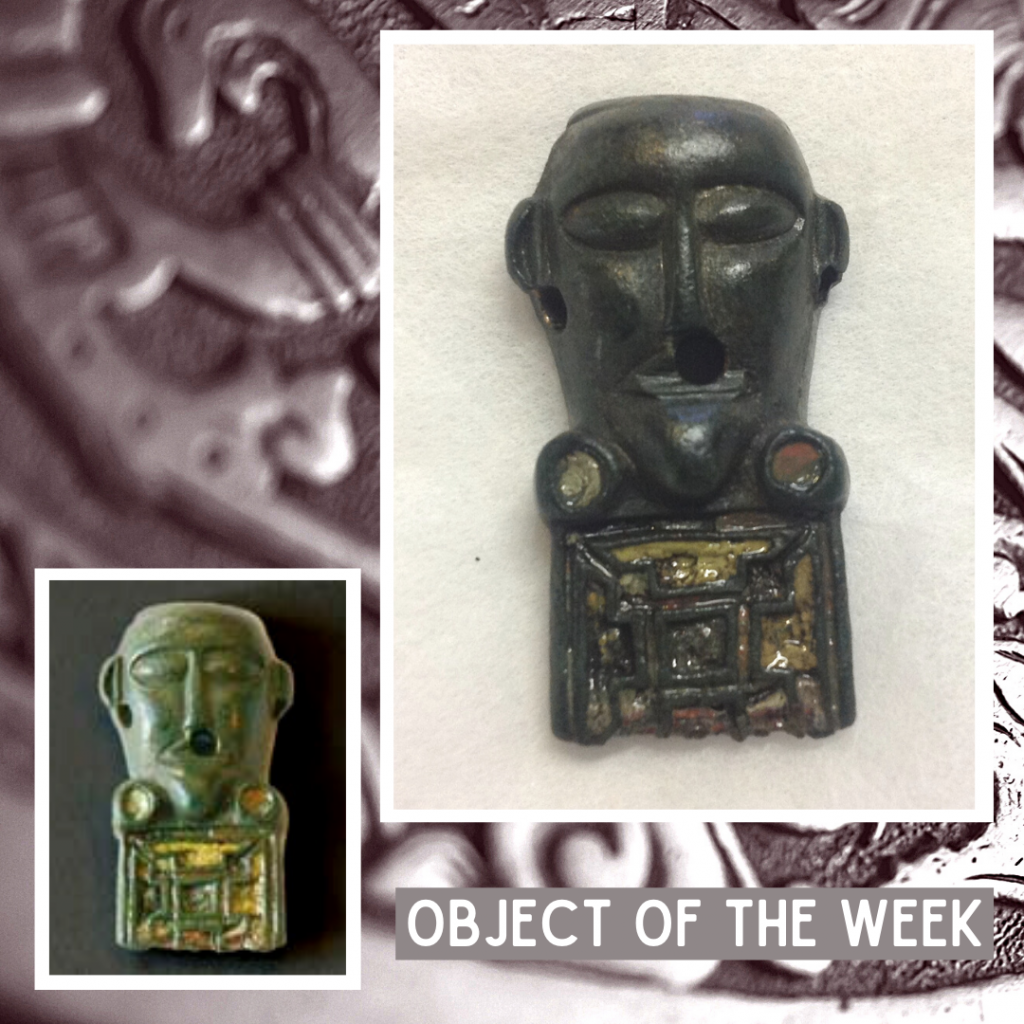 This week our Archaeology Curator, Morag Clement, talks about a beautiful piece of Viking Archaeology.
This Viking bronze mount was found near Arnside. It is only 3cm high and is dominated by a grim human face with large oval eyes, down-turned mouth and ears sticking out at brow level. When complete it would have had a matching mask facing up, in mirror image from the bottom of the decorative panel. The round settings and cells in the central panel were inlaid with bright yellow enamel against a red background.
The mount was made as one of a set mounted on a bronze bowl to hold rings from which the bowl could hang. A number of similar two-headed mounts have been found in Viking graves in western Norway. A pair of related bucket mounts with staring masks was found in a richly furnished ship-burial at Oseberg in Norway, deposited in 834 AD which establishes an eighth or early ninth century date for their manufacture.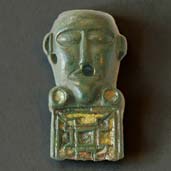 The style of face and lavish use of enamel on the Arnside mount are features of eighth century Irish metalwork. Irish vessels, mounts and fittings travelled with Viking raiders and settlers as loot, traded goods or possibly as gifts and dowry pieces. While often of no value as bullion, they were appreciated for their decoration. This piece has three holes drilled through it, including a large one through the mouth, showing it has been reused.
There are a number of late ninth century Viking silver hoards from Cumbria and Lancashire and the area was extensively settled by people of mixed Irish and Scandinavian roots in the tenth century and Arnside is well placed as a port for contacts with eastern Ireland and the isle of Man. Another bucket mount with a face at each end but without enamel was found some years ago near York.
Morag Clement MA(Hons), MPhil, FSAScot
Archaeology Curator
Kendal Museum
Come and explore the Kendal & Westmorland gallery at Kendal Museum and learn more about our exciting local archaeological finds, including other Viking archaeology. You can book your tickets here.