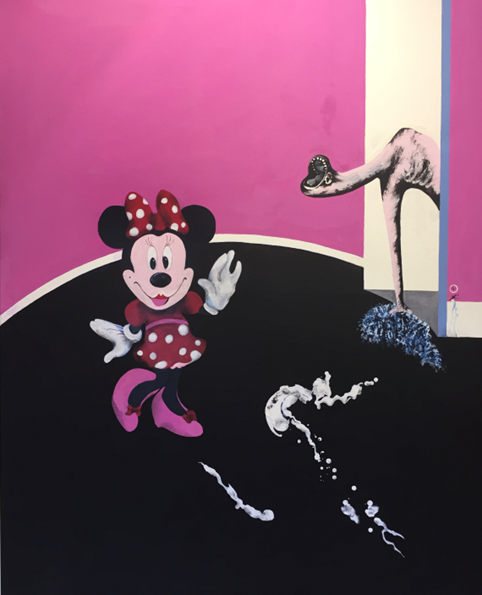 Visit the new exhibition by Mike Healey in our People's Gallery from the 5th of October until the 11th of November.
For this exhibition, Mike's work embraces Greek and Egyptian mythology; strange plant forms; the world of Pulcinella and the Commedia dell'arte; climate change and weird landscapes.
Works also explore ideas underpinning Shakespeare's The Tempest – a play, written in 1610, that has long fascinated Mike and which, as a professional stage director, he has directed several times. Themes include colonialism, enslavement, sexual exploitation and political power that still resonate today.
In the artist's words:
Surrealism has always had something of a wicked sense of humour.
This is partly because the juxtaposition of familiar objects within an inappropriate setting can be both dramatic and, often, amusing.
In the above painting, I have imagined Minnie Mouse posing in the studio of Francis Bacon!
Entry to the People's Gallery is free, open to public Thursday, Friday and Saturday from 9:30-16:30.
The preview evening for this exciting new exhibition will be on Friday 6th October from 6pm to 8pm. Entry to the is free and all are welcome.
Please note that the gallery is down a flight of stairs. Please contact us if you require alternative access.