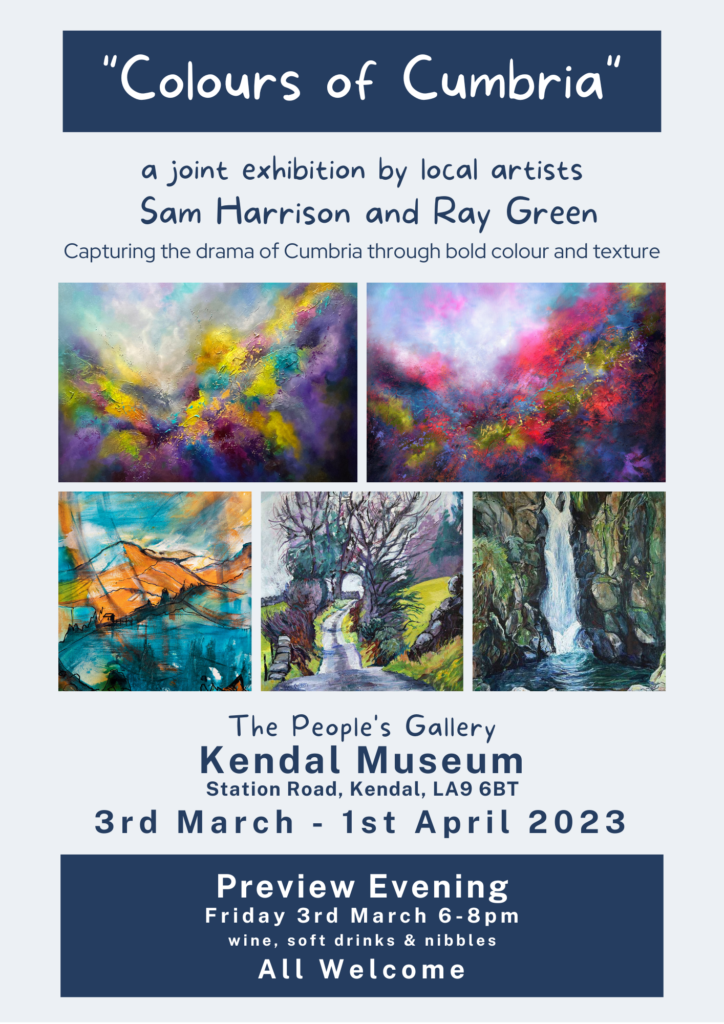 Sam Harrison
Sam is an abstract and expressive landscape artist based in Ulverston, Cumbria.
"Growing up in Kendal gave me a life-long love of the fells and the dramatic beauty of the Cumbrian landscape. My passion is to convey that feeling through unique, atmospheric, and tactile paintings that are triggered by a colour, a mood or texture experienced whilst out exploring the Lake District.
Having recently left a full-time career in Engineering and Project Management, I am excited to work with local artist Ray Green to present our joint "Colours of Cumbria" exhibition at Kendal Museum's The Peoples Gallery during March 2023."
Website: https://www.samharrisonart.co.uk
Ray Green
Ray is an expressive landscape artist based in Kendal, Cumbria.
"The wild Cumbrian landscape is the inspiration for my 'wild-place' paintings'. I am deeply drawn to these Cumbrian wild places, the chuntering rivers and old mountains. I try to paint their unique energy, to create a meeting. With the hope you too see and hear. But without the cold, wet, dangers and midges!"
Website: https://www.raygreen-artist.co.uk
Free admission to the exhibition. Thursday-Saturday from the 3rd of March to 1st of April 2023.