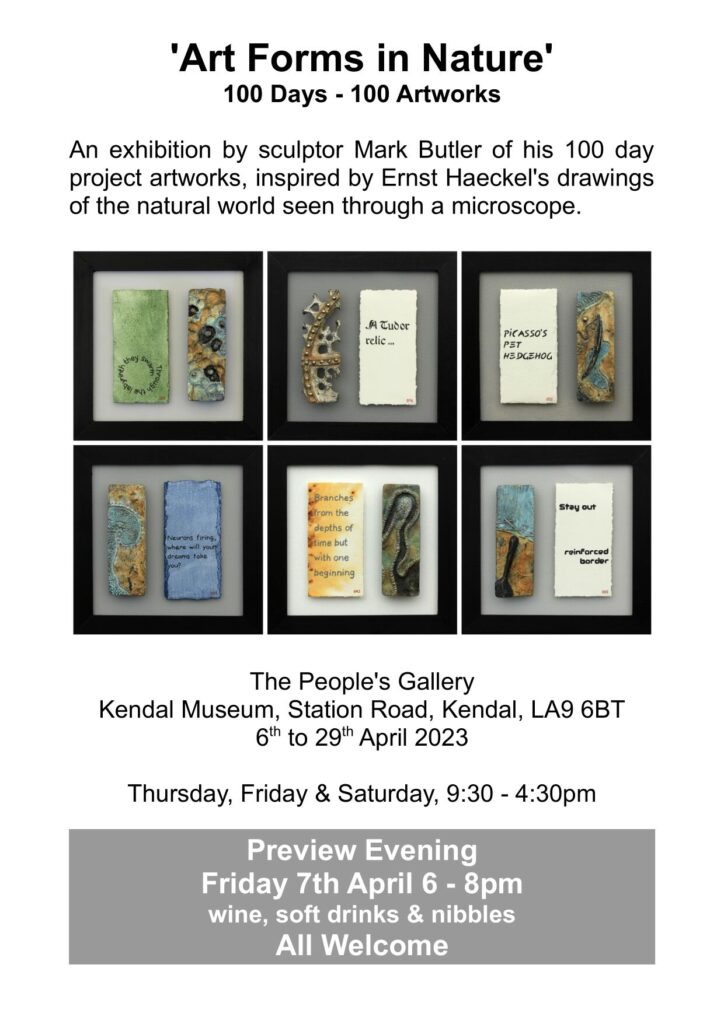 Mark is a sculptor working mainly in cast bronze. Although he is using metal – a markedly permanent material – he harnesses chance to create imperfect and fractured pieces, mirroring the impermanence and vulnerability of the environment around him.
Influences often have a landscape or scientific background, looking at the layers of information available about a location, or the amazing forms that can be found in the microscopic world and their unseen influence on our world.
Based in the Yorkshire Dales, Mark casts all his own work and has a degree in Creative Arts. He currently exhibits at art shows and galleries across the North of England.
The 100 Day Project
On 1st January 2022, Mark started a creative challenge to make 100 new artworks, making a new clay design every day for the first 100 days of the year. Posting images of these creations on Instagram, he invited viewers to contribute words inspired by these pieces. After casting the pieces in bronze, he then combined these with one of the selected texts to create 100 new pieces of art for the exhibition.

Mark says: 'I was looking for a way to push forward my work at a normally quiet time of year and this creative challenge was just the ticket. I based all the clay designs on the amazing drawings of Ernst Haeckel which provided me with more than enough inspiration to produce 100 pieces. It has been wonderful to get so many people involved in the project in providing words to accompany my pieces on Instagram, and it has been great to see what other people see in them. Some people took it on as a challenge for themselves to provide words for all 100 pieces and it was often hard to pick a single contribution.'
The exhibition is held at the People's Gallery, Kendal Museum. Every Thursday – Saturday, from 6th April to 29th April. Free entry.
MS Butler Sculptor | Bronze sculptures and drawings | Yorkshire Dales